The Man Who Messed Up Walking His Dog So Badly It Made The News
Talks
I've been a speaker at venues as diverse as Blizzard Entertainment (where I spoke about how one makes money as an independant cartoonist) to Yale (where I spoke about comics in general) to TEDx (
where I spoke about reinventing civilization from scratch when you're trapped in the past
) to countless libraries and schools around the world, where I try to inspire my audience about both the medium of comics and the fun and excitement of science and technology.
I'd love to come entertain (and maybe even educate??) at your school, business, or event. Please contact Kate Berner at the Penguin Random House Speakers Bureau if you're interested in having me visit!
Recent events from the past little while include:
"Liked Ryan North the best, made me see how literature was fun and didn't have to follow specific rules!!! Showed me that literature that was fun could still mean something."
"Really liked the guest speaker! Not everyone has the ability to carry the audience through the whole presentation. Make sure future guest speakers are as good as him!"
"Liked guest lecturer because he was funny and relatable, didn't talk down to kids."
Current Projects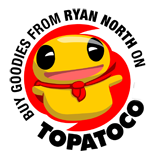 Squirrel Girl (art) by Erica Henderson, © MARVEL, Ophelia (art) by Kate Beaton, Midas Flesh (art) by John Keogh, Adventure Time (art) by Chris Houghton, © Cartoon Network