Writer and all around entertaining guy.
Work Online
DINOSAUR COMICS
2003 - Present: The comic with talking dinosaurs where the pictures don't change! It's even better than it sounds!! This comic also features: jokes AND ideas.
---
SQUIRREL GIRL: THE UNBEATABLE RADIO SHOW
2022: The beloved and critically-acclaimed Marvel comic is back, in PODCAST FORM. A six-episoded scripted series starring Milana Vayntrub as Doreen, Crystal Lucas Perry as Nancy, Leo Sheng as Koi Boi, Davied Morales as Chipmunk Hunk, and Erica Schroeder as Tippy!! YES WE PUT A SQUIRREL CHARACTER IN OUR PODCAST. Also Peter Hermann as Brain Drain; they're all AMAZING.
---
NOAM CHOMPSKY'S EARLY LANGUAGE ACQUISITION

2011 - 2022: Pictures of my wonderful, beloved dog. <3
---
PROJECT WONDERFUL
2006 - 2018: For over a decade I had the privilege to build, maintain, and enhance Project Wonderful: an innovative advertising network built from the ground up to be fair and awesome for indie creators. It was really, really great and I miss it still.
---
DESTINY 2

2017 - 2018: I contributed writing to the game, and you can read the tie-in comics I co-wrote with Christine Thompson right here!
---
TALES FROM TEN FORWARD

2017: I had some adult beverages and helped out some friends who make a web series in which people have adult beverages and then recall their favourite Star Trek episodes, and then they act them out! IT'S GOOD TIMES.
---
THAT TIME THE VEETANS DEFEATED THE TESSKANS FOREVER

2016: A guest comic for Dave Kellett's DRIVE that me and Tony Cliff did! I got to answer a long-standing open question in Dave's comic and I got to do it with SCIENCE. Also: jokes.
---
TOAST SANDWICH PHOTOGRAPHER
2014: My true claim to fame: photographer for the toast sandwich article on Wikipedia.
---
RSSPECT
2006-2014: Another one of my software projects, this service allowed you to use an existing website to make an automatically-updating RSS feed. It was really useful during a time when RSS was new and existing sites didn't support it! Inscrutable little robot logo by David Hellman.
---
GALAGA: THE MOVIE: THE COMIC
2013: One time me and Chris Hastings and Anthony Clark teamed up to make a Galaga comic, and we decided we'd just treat it as the comic adaptation of the big-budget Galaga movie we all deserved. It was for Shiftylook which is no longer a going concern, but someone has uploaded a mirror on Imgur so you can still read it!
---
B TO THE F
2012: One time I may have done a page-by-page review of the (completely bonkers) novelization of Back to the Future that ended up longer than the actual book itself. And then it kinda turned into an examination of writing and adaptation as a whole? Also available as an ebook.
---
MACHINE OF DEATH
2010: You can find this book in print too, but since we're nice people, we put a PDF of the first book online for free! I know! You can thank us later!
---
EVERY TOPIC IN THE UNIVERSE EXCEPT CHICKENS

2006: Wikipedia's "chicken" page is semi-protected to this day.
---
Current Projects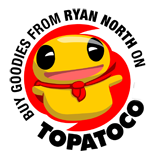 Squirrel Girl art by Erica Henderson, © Marvel Comics, Ophelia art by Kate Beaton, How To Invent Everything art by Derek Charm, Kid Constantine art by Derek Charm, © DC Comics, Slaughterhouse-Five art by Albert Monteys, How To Be A T.rex art by Mike Lowery.