Writer and all around entertaining guy.
Work in Games and Television
LOST IN RANDOM
Zoink Games, 2021: A new game from Zoink (Flipping Death, Stick it to the Man): a dark fairy tale RPG that I wrote all the dialogue for! It's got a super cool trailer too, and it was an official selection of the Tribeca Film Festival. Out now, Kotaku loved it!
---
AVO

Playdeo, 2019: "TV you can play" kinda describes what's going on in this game, but there's so much more. I really think you'll like it! Co-written with Gemma Arrowsmith!
---
MARVEL RISING: SQUIRREL GIRL

Marvel, 2019: I wrote this short to introduce Squirrel Girl to the Marvel Rising universe! Featuring Milana Vayntrub as Doreen herself.
---
FLIPPING DEATH
Zoink Games, 2018: A new game from Zoink that I wrote dialogue for! Here's the trailer!
---
DESTINY 2
Bungie, 2017: part of the writing team for the "Curse of Osiris" DLC. It was AWESOME. We also made comics!
---
HIVESWAP
What Pumpkin, 2017: Andrew Hussie and I worked out the general story of the game, made up puzzles, characters, conflicts, and basically just spent a week together (in a blizzard) inventing crazy stuff. Just a couple of pals writing a game! Later on, when the game was actually programmed, I did some writing for the first episode.
---
BRAVEST WARRIORS
Nelvana, 2017: I've written several episodes of Bravest Warriors and you can watch one of them right now: it features robot duplicates because of course it does.
---
TO BE OR NOT TO BE
Tin Man Games, 2015, 2022: I collaborated with Tin Man games to turn my interactive fiction book into an interactive fiction game! It's got read-along narration, achievements, special effects, and tons of fun. Please enjoy. It also came out for Nintendo Switch in 2022!
---
STICK IT TO THE MAN
Zoink Games, 2013: I did the dialogue writing for this game! So if you ever thought "I wish I could play a game where Ryan made some jokes" I have good news: THAT GAME EXISTS. Also it got real good reviews, so there's two reasons to play it!
---
ADVENTURE TIME: ROCK BANDITS
Zoink Games, 2013: there's a comic inside this game that you can read. I wrote it!
Current Projects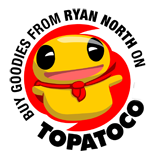 Squirrel Girl art by Erica Henderson, © Marvel Comics, Ophelia art by Kate Beaton, How To Invent Everything art by Derek Charm, Kid Constantine art by Derek Charm, © DC Comics, Slaughterhouse-Five art by Albert Monteys, How To Be A T.rex art by Mike Lowery.