I am the final boss at the end of the internet. Also I write books!
About Ryan
My name is Ryan North! I am a dude living in Toronto, Canada, and I write all sorts of things. You can contact me if you want! You can read my journal if you want! You can follow me on Twitter if you want! What I am saying is that there are options. Hey, I've got a Wikipedia entry too! I look like this:

emily took this! i call this photo, me in a tree - and there's a documentary wherein you can see THIS VERY PHOTO being taken!
I do lots of writing online, and also I've made a whole bunch of books. Perhaps you are... intrigued??
Bio
Ryan North is the writer responsible for Dinosaur Comics, the Eisner and Harvey award-winning Adventure Time comics, the #1 bestselling anthology series Machine of Death and the New York Times bestselling and Eisner-award winning Unbeatable Squirrel Girl series for Marvel. He's turned Shakespeare into NYT-bestselling choose-your-own-path books, and his book HOW TO INVENT EVERYTHING is nothing less than a complete cheat sheet for civilization. He's currently working on adapting Kurt Vonnegut's SLAUGHTERHOUSE-FIVE into a graphic novel. He lives in Toronto, where he once messed up walking his dog so badly it made the news.
What Do You Need To Study To Become A Ryan North
I mean, individual results may vary, but I did an undergrad in Computer Science (graduated highest honours with a minor in film, baby) at Carleton University, then a Masters of Science at the University of Toronto. I studied Computational Linguistics; here's my thesis!
Photos
Need print-resolution photos of me for some reason? Sure, sometimes life brings you to strange places. All photographs here are by Connie Tsang.
Happy:
Serious / Respectable:
Comic Booky:
With my dog Noam Chompsky, the real star of the show:
Awards
Eisner Award, 2017: Best Publication for Teens for The Unbeatable Squirrel Girl
Eisner Award, 2017: Best Humour Publication for Jughead
Alex Award, 2017: for Romeo and/or Juliet
Harvey Award, 2014: Special Award for Humour Adventure Time
Harvey Award, 2014: Best Original Graphic Publication for Younger Readers for Adventure Time
Eisner Award, 2013: Best Publication for Kids for Adventure Time
Harvey Award, 2013: Best Original Graphic Publication for Younger Readers for Adventure Time
Harvey Award, 2013: Special Award for Humour Adventure Time
Nominations
Goodreads Choice Semifinalist, 2018: Best Science and Technology Book for How To Invent Everything
Shuster Nomination, 2017: Outstanding Writer for The Unbeatable Squirrel Girl
Eisner Nomination, 2016: Best New Series for The Unbeatable Squirrel Girl
Shuster Nomination, 2016: Outstanding Writer for The Unbeatable Squirrel Girl
Goodreads Choice Semifinalist, 2015: Best Graphic Novels and Comics for The Unbeatable Squirrel Girl Vol. 1: Squirrel Power
Shuster Nomination, 2015: Outstanding Writer for Adventure Time and The Midas Flesh
Shuster Nomination, 2015: Dragon Award for Kids Comics for The Midas Flesh
Shuster Nomination, 2014: Outstanding Writer for Adventure Time and The Midas Flesh
Eisner Nomination, 2013: Best New Series for Adventure Time
Eisner Nomination, 2013: Best Humour Publication for Adventure Time
Shuster Nomination, 2013: Outstanding Writer for Adventure Time
Current Projects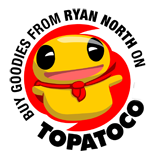 Squirrel Girl (art) by Erica Henderson, © MARVEL, Ophelia (art) by Kate Beaton, Midas Flesh (art) by John Keogh, Adventure Time (art) by Chris Houghton, © Cartoon Network